Whiskey and cigar go together.
To begin with, they are of the same genus – in the sense that their genus is confused.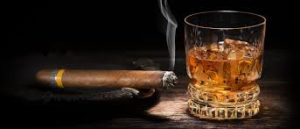 Continuing the Parallels, we note that someone, speaking about cigars, even finds comparisons for them, referring to the world of whiskey: they say that Romeo y Julieta Churchills is whiskey in its purest form, and Romeo y Julieta Prince of Wales – whiskey and soda; Charles McLean, editor of Whisky Magazine, notes: "Havana" is like malt whiskey and Dutch cigars – like blended.
Further.
There is a cigar, the proper name of which reproduces the name of one of the brands of Scottish malt whiskey – Knockando. Some brands of Bourbon (American whiskey, which is made mainly from corn) have also switched to cigars – for example, Maker's Mark and Pappy. It is assumed that the eponymous cigars and Bourbon are ideally suited to each other, and in the first case, the cigar itself is flavored with Bourbon.
There are Scotch whiskeys specially designed for cigar lovers. One example is the Corriemhor Cigar Reserve.
It belongs to the pure malt type (a mixture of malt, sprouted barley, whiskey from different distilleries) and combines spirits from four traditional distillery regions of Scotland. According to the manufacturer, this whiskey " best corresponds to the depth, tenderness, and strength of flavors associated with an excellent cigar." Vague, of course, but the whiskey is delicious, and I find a distinct tobacco note in it, which is interesting in itself.
Another example is the Dalmore Cigar Malt. This is a single malt (malt whiskey, exclusively from sprouted barley, and only from one distillery). Tasters of the American magazine Smoke tried Cigar Malt with the Dominican Treasurer Grand Robusto and found their combination magical.
It is believed that the whiskey is most suitable for single malt cigars. And these are most likely medium-strength or strong cigars. Take, for example, the Cuban Montecristo or Bolivar, and to them 10-year-old Glenmorangie or 12-year – old (better-18-or even 25 – year-old) Macallan-they may seem worth each other.
Bolivar was chosen to taste one of a dozen bottles of the ultra-limited edition Dalmore made from ancient spirits: the youngest, according to which the drink is identified, is 62 years old, and the oldest are extracted from barrels Dating back to 1868.
Like the tradition in the cigar industry, the production of notable Scotch varieties has colorful characteristics that have been preserved since their birth and distinguish those who tend to seek recognition by following unwritten rules rather than formal regulations.
Curiously, here comes the topic of sherry-a drink that is also compatible with cigars (by the way, there are cigars named after sherry brandies: Soberano and Lepanto from Gonzalez Byass, and among the varieties of these cigars there is Soleras – the name of the sherry production technology).
Whiskey and sherry – what do they have in common?
Single malt is aged in oak barrels either from sherry or from Bourbon. If you believe the authors of today's Macallan, many distilleries refused this process because of its high cost (for barrels you have to go to Spain, to the sherry itself, pour them with an aged, carefully selected drink of the same name, wait two years before the barrels from under the sherry can be sent to Scotland, where they will be filled with whiskey itself, and only then begins its aging).
But those who agree to this hassle, achieve impressive results – just try the same Macallan, even if it is 12 years old. The final maturation of the rare Dalmore mentioned just above took place in barrels where Matusalem sherry (another well-known brand from Gonzalez Byass) of the oloroso type was previously aged.
I would, however, not insist on the compatibility of cigars only with single malt, knowing that blended whiskey (a mixture of alcohols produced at different distilleries both from sprouted grain, in the case of Scotch-barley malt, and not sprouted) also have adherents among cigar lovers.
In this regard, the views of Willy Alvero, who represented Habanos in Russia, deserve interest: with Cuban cigars, malt whiskeys are better combined, and blended whiskeys containing very old alcohols are also acceptable, while blended whiskeys as such are more suitable for "Dominicans".
Of course, the above understanding is not a dogma (we must also take into account the Convention of the concept of "Dominicana", knowing that recently in the Dominican Republic they make cigars in a wide range, whether it is the degree of strength or the characteristics of the bouquet, not to mention the tobacco components, which can be of various origins, except, however, Cuba).
European Cigar culture Journal tasters went through a lot of combinations between non-Cuban cigars and single malt scotches and summed up their impressions as follows: to the Dominican Macanudo Prince Philip – 15-year – old Dalwhinnie, to the Canary Wall Street Double Corona-10 – year-old Glenkinchie, to the Indonesian Montague Double Corona – 12-year – old Graganmore, to the Dominican Davidoff Aniversario # 2-16-year-old Lagavulin, to the Honduran Flor de Selva double corona-14-year-old Oban. The task of identifying preferences between blended and single malt whiskeys in relation to these cigars was not set, but, I think, the experts were satisfied with the selection of "molts".
We know, however, that there are other whiskeys besides Scotch and Bourbon. By the way, Senor Alvero's personal preference for cigars is Irish whiskey, and he is not alone in this, as I can judge from the tastes of some of my friends.
***
Dominican Macanudo Prince Philip perfectly combined with Bourbon Four Roses,
Cuban Bolivar – with single-barrel Bourbon,
Dominican Dunhill Aged Condado-with single malt whiskey,
Cuban Partagas – with single malt island,
Cuban Montecristo-with blended,
and Havana's Bolivar Belicosos Finos are so good in themselves that no alcohol can add anything to them.